Increasing Work Opportunities
Many would consider Austin's economy "hot" right now, with low unemployment, rising house prices and luxury condos sprouting all over downtown. But if you are not able to land a well-paid tech, state or UT position, the economic boom may be more of a bust.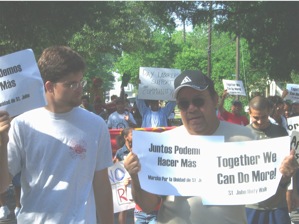 In fact, as in most American cities, those with poor educations find themselves limited to mostly low-paying service jobs, especially as manufacturing has diminished as an option. We see kids with parents working long hours to get by but unable to afford childcare. Many face a choice between not working and living a subsistence lifestyle on federal aid or joining the ranks of the working poor with no medical benefits.
Though these are big problems, we believe that things can be better. In fact, our work with local and state employment agencies, training programs and UT experts has convinced us that at least some of the problem lies with poor communication between those needing work and training and those with resources to offer.
Partners in Hope
will be starting an employment collaborative, aimed at bringing together state and local employment agencies, educational institutions, private employers, and others with fresh ideas as to how to help people in our communities find meaningful employment and a living wage. Churches, neighborhood groups and residents will also be part of the team.